Toddler Child Care
It can be tough to find child care that fits your budget, is safe, and provides a stimulating environment where your child can learn, play, and have all their needs met. Luckily, The Learning Ladder can check all your boxes. The Learning Ladder offers daily toddler child care to children from 12–23 months old.
Highlights of Our Toddler Child Care Classroom
The year in between a child turning one year old and turning two is a crucial one for physical, mental, and social development. Our child care professionals at The Learning Ladder are committed to providing a safe, nurturing environment for your little one to learn and progress happily.
Cognitive and Communication Skill Development
Toddler-age children are constantly learning, and everything around them can be used as a lesson. At The Learning Ladder, we provide toys and activities that are mentally enriching and intellectually stimulating so that your child can learn through play. Our teacher-to-child ratio allows for continual personal interaction throughout the day.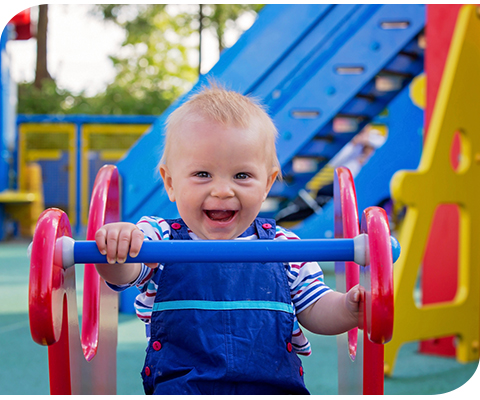 Emotional Skill Development
During the toddler stage, children are learning to navigate a complicated world, and it's critical that they feel safe in their environment. The Learning Ladder provides love and security to children so they can build trust, manage their emotions, and learn to communicate their desires. We pay attention to each child's unique needs so we can support them in a personalized way.
Motor Skill Development
The Learning Ladder helps toddlers learn how to engage physically with the world around them. Whether it's practicing walking, running, and dancing through outdoor play or developing fine motor skills through coloring, blocks, feeding themselves meals, or other activities, your child and the other students will have fun moving their bodies.
Social Skill Development
In our classes, your toddler will be able to see children their age every day, making it easy to find playmates and form friendships. The Learning Ladder provides a great opportunity for toddlers to learn basic social skills and work on polite interactions and manners such as saying hello, being kind, sharing, and more.
What Your Toddler Will Do Throughout the Day
At The Learning Ladder, you can be sure that no day will be boring for your toddler. They will have opportunities to form new friendships with other children, spend time outside in the fresh air and sunshine, and take part in a variety of educational games and lessons. Daily and weekly themes, such as "Going on a Jungle Safari," "Space and Planets," "Yellow Day," and more keep things fresh and exciting for children with themed activities such as crafts and reading. Each day, your toddler will be served a nutritious meal and have constant access to our friendly staff who are educated in child development and health.
Choose The Learning Ladder for Your Toddler's
Child Care
The Learning Ladder is based in Cedar City, Utah, and is committed to providing dependable, high-quality child care services and educational opportunities for every child that comes through our doors. We support parents by supporting their children, and by ensuring a safe, trustworthy environment that you can feel good about sending your kids to. We are a state-certified daycare and child care facility. To learn more or schedule an appointment or personalized tour, please contact us today.