Preschooler Child Care in Cedar City, UT
When you're looking for childcare or preschool services in Cedar City, Utah, it can sometimes be difficult to find exactly what you're looking for. You want a daycare that you not only trust but is affordable and safe for your children. At The Learning Ladder, we provide all of this to parents and more.
Highlights of Our Preschooler Child Care Classroom
For children aged 3 to 5, we offer two types of services: childcare and preschool services. This means you'll find a safe and comfortable environment for your young one whether you're just looking for childcare or you want them to begin preschool. Our professionals at The Learning Ladder can help provide hands-on experiences to help your preschoolers play and learn.
Areas of Development
We understand just how important it is for your child to develop in all areas, from emotional and social to motor skills. Our preschool classrooms have areas set up that help your child develop all of their skills.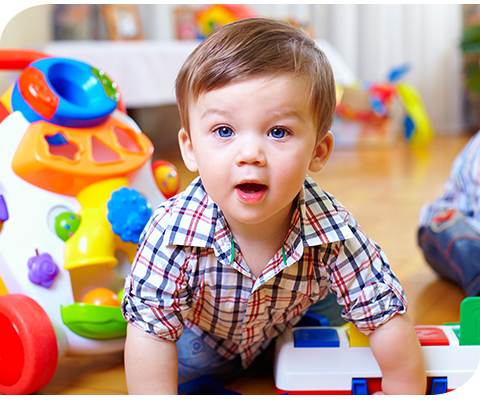 Preschool Activities
If you enroll your child in a preschool classroom, we'll help them learn in a variety of ways. Our preschool program includes everything from learning centers and small group phonics to field trips and more.
Video Access
At The Learning Ladder, we even offer live video access to our classrooms and playgrounds. We know many parents may be sending their children to daycare for the first time, and being able to see the classroom can not only give parents ease of mind but help build trust with us when it comes to caring for and teaching your children.
Small Classroom Sizes
We keep group sizes small, which allows for our teachers to give more attention to each student. We keep the same teachers in the classroom every day to provide your child with familiarity while keeping each group no larger than 12 children.
What Your Preschooler Will Do throughout the Day
At The Learning Ladder, your child will be alternating between activities throughout the day. Our teachers focus on cognitive, social-emotional, physical, and language development. In addition to learning, your child will be cared for, fed snacks and meals, make friends, and have toys to play with.
Choose The Learning Ladder for Your
Preschooler's Care
Whether you're looking for childcare or preschool for your 3- to 5-year-old, trust us at The Learning Ladder to care for your child. We're based in Cedar City and provide dependable, trustworthy, affordable, and high-quality childcare and preschool. As a state-certified facility, we do everything we can to provide a state-of-the-art facility for you to send your children during the day. For more information on our programs or to schedule a tour, contact us today.