Infant Child Care
Finding childcare for infants can be a difficult decision. You'll want to find an affordable daycare that's trustworthy and safe. Additionally, it's important to have a loving environment that meets your infant's daily needs. At The Learning Ladder, we're proud to offer all this in our infant daycare and classes. In our infant child care classes, children from 3–12 months are looked after while developing necessary skills.
Highlights of Our Infant Child Care Classroom
At The Learning Ladder, you know your child will be safe and cared for throughout the day. Other highlights include the development your child will receive during their time with us. We focus on a variety of developmental areas to help your child thrive.
Cognitive and Communication Skill Development
We'll help your infant build memories, develop words, and recognize sounds to help with cognitive development. Your child will also explore our classrooms with their hands, allowing them to experience new materials and textures.
We will also help your infant with their communication skills so that they can express what they need and want. Our infant teachers will help with this skill by reading books and poems and singing songs. Teachers will also walk your child around our classrooms and describe different objects to them to help build their communication skills.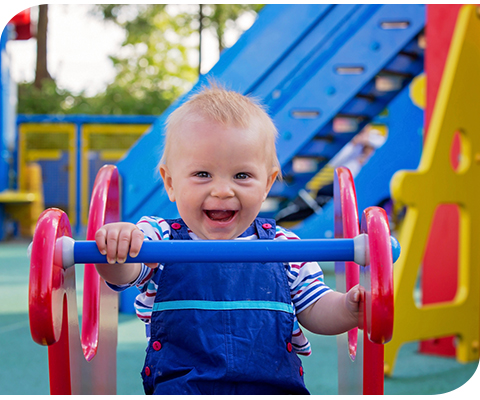 Emotional Skill Development
We've created a safe and loving environment for infants to feel safe and secure in. Security is a huge part of emotional development. We strive to build trust with infants in our daycare by responding and communicating with them, giving them hugs, and comforting them.
Fine Motor and Gross Motor Skill Development
We also focus on developing infant motor skills to help them thrive. Infant teachers will help your child develop their fine motor skills, such as the muscles in their hands, by teaching your child to grasp onto items. This is done through teaching your child to eat their own food and coloring with crayons. Teaching your infant to wave with their hands will also develop their fine motor skills.
We also work on developing infants' gross motor skills, such as the muscles in their arms and legs. This is done by teaching them to hold up their head, rolling over on their own, and crawling. Our teachers also work on infant gross motor skills by giving them tummy time and teaching older infants and toddlers how to dance and walk around.
Social Skill Development
We'll help your children with smiling, eye contact, facial expressions, and close interactions. Your infant will see different and familiar faces in our daycare center each week, which will help them create relationships and meet new people.
What Your Infant Will Do throughout the Day
Beyond being cared for and developing their skills, you may wonder what your infant will be doing throughout the day.
At The Learning Ladder, all children enrolled in our programs receive daily meals. Infants will also interact with each other, have time outside, and learn and play games in a safe and welcoming environment. Some of the games your infant will play, which help boost development, are peekaboo and simple puzzles.
Choose The Learning Ladder for Your Infant Care
At The Learning Ladder, we provide safe environments and build relationships with each child and infant in our care. We also have flexible schedules so that you can pick which works best for you. Choose from part-time, full-time, or excessive full-time (42 or more hours a week) child care.
Feel free to schedule an appointment or tour with us today. Contact us to register your child for the best infant daycare in Cedar City!