Infant / Toddler
Early childhood development is critically important.
Our teachers and staff will be with your infant/toddlers every step of the way, during this period of learning. We understand that infants and toddlers are constantly learning. Every time they hear a new sound, they want to know where the sound came from. When they look in a mirror, they want to know who is staring back at them. Your infant/toddler will experience sensory-based learning while receiving positive, nurturing guidance from our loving child care providers.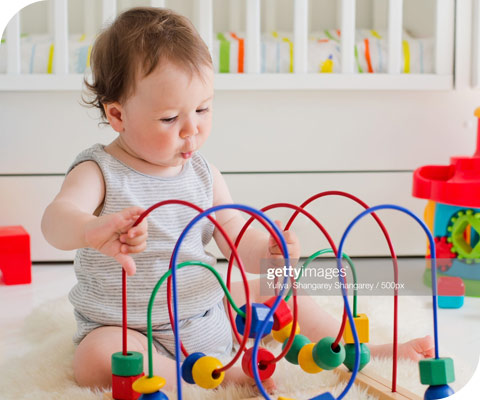 Cognitive Skills:
Infants and toddlers are building their memories, learning to develop words and learning to recognize familiar sounds. They're exploring with their hands and mouths. In our infant room, your child will explore different textured materials, play Peek-A-Boo and complete simple wooden puzzles.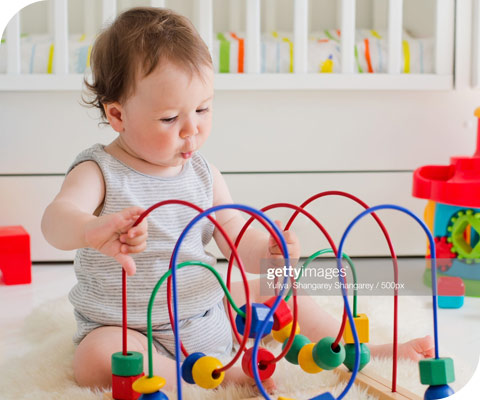 Communication Skills:
By developing communication skills, infants and toddlers learn how to express wants and needs to others. Our staff members know they share this important responsibility for helping infants learn and understand language. Our teachers read books and poems, sing songs, as well as walk your child around the classroom talking and using language to describe everything they see.
Emotional Skills:
Emotional development involves infants and toddlers feeling safe in their environment and secure with the adults in their lives. We help your infant/toddler build trust and attachments by watching their signals and responding to them. To really thrive, infants and toddlers require close, loving relationships with the adults who care for them. Our teachers hug, cradle, and comfort your child to ensure developmental success.
Fine Motor Skills:
Fine motor skills are developed in the small muscle groups like those in our fingers and hands. Our teachers help your child learn to grasp items and help them eat, color and complete other daily activities. We help improve pincer grasp by putting small foods in their hands, then on their tray, so they can feed themselves. They begin to wave hello and goodbye, and explore other objects with their hands.
Gross Motor Skills:
Gross motor development is the growth of the large muscle groups, like those in the legs and arms. Gross motor skills for infants include holding up their heads, rolling over, crawling and pulling themselves up. We provide your infant with plenty of tummy time, and our infants and toddlers dance to different kinds of music and take walks, inside and out.
Social Skills:
An infant's social skills consist of smiling, making eye contact, imitating facial expressions and wanting to be close to other people. Our center is a place where your child will see many different, yet consistent and familiar faces. Our teachers model good manners and proper social skills to your child. Your child will play near friends in their age-appropriate classroom to develop the early bonds of friendship.
TESTIMONIALS
What Parents Say
Just wanted to say how impressed I was with your child care facility. I travel out of town frequently for my employment & often leave my little M… at child care facilities while I am working. I must say that The Learning Ladder was the best facility by far. I felt a very warm & comfortable feeling the moment I walked through the door.
Shasta
I recently visited my grandchildren, M….. and E….., while I helped their mother, A…. I was very impressed with the great staff at your facility and the caring and concern they have for the children. Thank you for caring for my grandchildren.
Susan